[vc_row padding_bottom="0px" border="none" no_margin="true" padding_top="0px" style="padding-right:25px; padding-left:25px;"][vc_column width="2/3″]
About Nelcar

NELCAR, Inc. started in 1994 as New England Legends led by the sole dealer for the southern cars in the north, Gary Dunphy. The beginnings of the group were small with Gary selling a handful of cars to a few fo rmer racers in the state of Maine. The group would take their cars all over the state as an exhibition show to drum up more interest in the often called, "cute little cars." With each exhibition, the group grew and formed a racing family with the drivers and crew members, who were often family and friends, meeting up for "Pit Parties" before the races or dinner after.
In 1997, Peter Prescott, owner of E.J. Prescott, took over the reigns of the series which had brought in drivers from all over New England. With this change also came a name change to MALCAR. The MALCAR Legends continued to race all over New England from Speedway 95 in Bangor, ME to Waterford Speedbowl in Waterford, CT. Many of the drivers also had gotten a taste of southern racing by qualifying for the INEX Legends Asphalt Nationals that were held at Lowe's Motor Speedway in Concord, NC.
In 1999, Prescott moved on to form a Pro-Truck team and the MALCAR drivers decided it was time that they took over the series, forming NELCAR, Inc. The series' top drivers joined together to form the first Board of Directors, which included past champions Doug Coombs and Ed Chapman. The drivers chose Jerry Major to be their race director, announcer, and series organizer. Fellow competitor Larry Poirier took over the Maine Legend Car dealership from Prescott and the series continued to expand. The popularity of the Legend Cars was most evident at Beech Ridge Motor Speedway for their 10-week Thursday Thunder summer series. Fans would pack the stands to watch the drivers battle for 20 laps or 15 minutes whichever limit came first.
The series also expanded its reach into northern New Hampshire and hosted many national qualifying races for the New England region. NELCAR was one of the premier Legend Car series in the country and was often visited by some of the top Legends drivers from the southeast. In 2000, John Gibbs of Livermore, ME took over the dealership from Poirier, and continued for the next decade.
In 2010, a new page was turned in Nelcar. Not only did Terry Kirk take over the newly renamed New England Legends Sales & Service from John Gibbs, but it was also the first time the Tour ran at New Hampshire Motor Speedway, on the newly configured quarter mile track in turns one and two on the morning of the September Sprint Cup Series race. Anthony Flannery went down in the record books as the first winner of the prestigous event.
NELCAR, Inc has brought together men, women, new, and former racers from all forms of the sport including motorcycles and stock cars. The atmosphere at the races is still open and welcoming where the drivers may compete ferociously on the track but will still join each other for "Pit Parties" and dinner. If you are interested in joining this staple of New England racing and being a part of its diversity please Contact NELCAR.
[/vc_column][vc_column width="1/3″]
Directors
President
Mike Olanovich
(207-423-3461)
Vice President
 Kevin Girard
(207-423-2138)
Secretary
Ed Getty
(207-329-3335)
Treasurer
Tim Grant
(207-776-3264)
Tylar Braunschweig
Matt Chagnot
Chad Call
INEX Technical Inspectors
(207-797-2178)
Stephen Miller
Nelcar Website and Media Relations
Website: Evan Beaulieu
(207-577-1191)
Media Relations: Matt Grant
(207-329-7043)
Forms
Past Champions
[/vc_column][/vc_row][vc_row padding_top="0px" padding_bottom="0px" border="none" style="padding-right:25px; padding-left:25px;"][vc_column width="1/3″]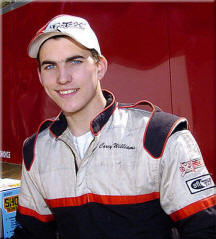 Corey Williams
Corey Williams took back to back NELCAR and Thursday Thunder Championships during the 2002 and 2003 seasons, as well as, being nominated for the "Maine Driver of the Year" award. In 2004 Williams moved up to Super Late Model competition with the Pro All Star Series (PASS) where he finished 3'rd in the series standings and was named "Rookie of the Year." Williams' Super Late Model career has continued to flourish and he is now one of the premier competitors in the PASS South series. He notched his first ASA win in 2007 driving for NASCAR driver David Stremme. Williams currently lives in North Carolina racing Super Late Models and has worked for Andy Santerre Motorsports where he had served as Crew Chief for Jeffrey Earnhardt, Austin Dillon, and Peyton Sellers. Corey now works at Hendrick Motorsports in the fabrication department in the 5/24 shop.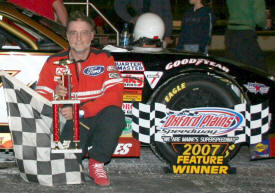 Doug Coombs
Coombs joined NELCAR in the very beginning when there were only a handful of cars in the state and the lone dealer was Gary Dunphy. Coombs would prove to be one of the best drivers NELCAR would have, consistently running in the top five and garnering many wins. The highlight of his career would be his 1999 Thursday Night Thunder championship. Coombs also took over the business side of NELCAR which he ran with the help of his mother, wife, and daughter. He was able to attend the Legend Car Asphalt Nationals three times where he was able to race with and watch many of today's top drivers, such as, fellow Chapman Performance driver Reed Sorenson. In 2003 Coombs built an American Canadian Tour Late Model. His first couple of seasons he followed the tour and continued to gain experience. The highlight of his tour career was when he qualified for the biggest Late Model race in the Northeast the Milkbowl at Thunder Road Speedbowl in Barre, VT. Soon after Coombs cut back his season to racing at his home track Oxford Plains Speedway where he was consistently one of the fastest cars with many top three finishes to his name. According to Coombs his experience in Legend Cars really helped his move to Late Model racing by teaching him how to drive a loose race car and credits his Legends racing to his success at the higher levels.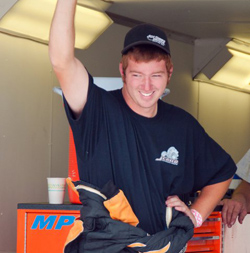 Max Zachem
Max started racing in Maine 2007 on a limited basis with his first win at Beech Ridge Motor Speedway in the 1st Annual 4cyl Nationals at 14yrs old over NELCAR president Terry Kirk (He still to this day says he gave me that win lol), CT State Semi Pro Champ. Full Time with a few missing races in 2008. Finishing 4th in the Nelcar points. 2009 Nelcar and Thursday Thunder Track Champion 9 wins between NELCAR and Thursday Thunder. 2010-2011 Back to part time running Legend Cars after moving to the Bob Valenti Auto Mall Modified Racing Series Max is now running full time on the Valenti Modified Series. 4 Top5s 14 Top 10s in 2 seasons. 8th and 9th in points for 2010-11. Max is currently going to Three Rivers Community College for Marketing and Business, while working part time for the family business.
[/vc_column][vc_column width="1/3″]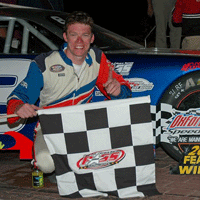 Cassius Clark
Clark joined NELCAR in 1999 and quickly showed that he would be a fearsome competitor and took "Rookie of the Year" honors at the end of the season. In his three year of competition Clark won back to back Thursday Night Thunder Championships and competed in the 2000 and 2001 Legend Car Asphalt Nationals. Clark was able to pilot his car to 11'th and 7'th place finishes in the elite "A" main events. In 2002 Clark moved up to Super Late Model competition. His first win came in 2004 with three pole awards securing his first top ten in points and "Most Improved Driver." Clark's most prestigious win came in the fall of 2006 when he won the Mason-Dixon Meltdown in South Boston, VA. Clark still runs in the Pro All Star North Series where he consistently posts top five finishes and is always a favorite to win races.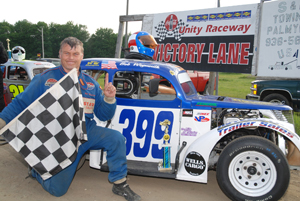 Bob Weymouth
Since making the jump from two wheels to four wheels in 1998, Bob Weymouth has been one of the most influential drivers in North East Legends Car racing. With four championships to his resumes, the numbers speak for themselves in a Legends Car career that spans 15 years. Weymouth has always had the reputation of being one of most hard nosed racers in the pit area, but one of the nicest off the track. Since joining Nelcar, Weymouth has helped raise many great young talents and is one of the most helpful drivers in the pit area to all newcomers.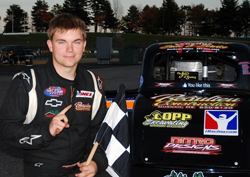 Evan Beaulieu
www.evanbeaulieu.com
Evan Beaulieu Facebook
Twitter @EBeaulieu56
Evan Beaulieu started his career racing go-karts at Beech Ridge Motor Speedway in 2004. His father Todd helped rebuild Richmond Karting Speedway in 2005, with Evan taking the track championship in two divisions in 2006. The next season, Evan raced karts regionally and was second in the NorthEast Pavement Series. In 2008, Evan made the move full time to Legends Car racing on Amsoil Nelcar Legends Tour. He was Beech Ridge Thursday Thunder Rookie of the Year. After a rough sophomore slump, Evan was able to get four wins and a second place in the points standings in 2010 behind his mentor, Bob Weymouth. In 2011, Evan dominated the Tour on his way to his first championship in both Thursday Thunder and Nelcar. Along with driving, Evan took over the Nelcar website in 2009 and started to do race recaps each week to help bring awareness to the Nelcar Tour. Along with the website, he runs the Facebook and Twitter pages as well for the Tour. 2013 will be Evan's rookie year in the Pro Series Super Late Model division at Beech Ridge Motor Speedway. Now away from racing Legends Cars full time, Evan has switched his focus to helping other drivers and Legends Car setup.
[/vc_column][vc_column width="1/3″]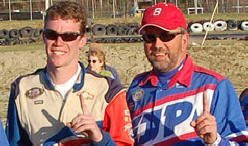 Ed Chapman
Chapman was always a favorite to win races in NELCAR in his signature white number 32. Toward the end of his Legend Car career he was able to expand to a two car team with his son Matthew driving the number 23, which would later serve as Corey Williams' first Legend Car. His career as an owner and driver would serve him well.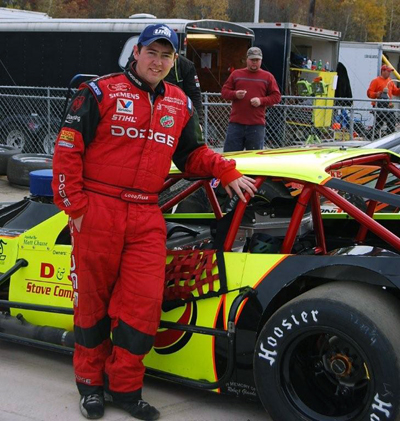 Jacob Dore
Jacob started racing legend cars in 2005 racing a limited regular schedule along with the TNT series his first year. He did win Rookie of the NELCAR series and the TNT series that year. He was also the Semi-Pro State of Maine Champion in his first year of legend car racing. He also ran in the nationals at Lake Erie Speedway. 2006 ran both tours full time, was 2nd in points for the NELCAR series and again won the Semi-Pro State of Maine Championship. He also raced at Lanier Speedway in Georgia in the nationals, and won his qualifying race in the semi pro division. 2007 found Jacob wining the Championship of both the NELCAR series and TNT series. He was also the Pro State of Maine Champion. 2008 Jacob turned to racing a modified at All-Star Speedway in Epping NH. In his rookie season he had 13 top ten finishes with 10 of them being in the top 5. He finished his rookie season 5th in points. Dore now races at Beech Ridge Motor Speedway in the highly competitive Pro Series division.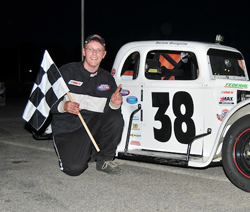 Matt Bourgoine
Go-Karts:  2007 at Thundering Valley Raceway. Starts: 19.  Thirds: 4.  Seconds: 7.  Wins: 3.  Finished third in points.
Go-Karts:  2008 at Thundering Valley Raceway. Starts: 20.  Thirds: 2.  Seconds: 8.  Wins: 8.  Overall Points Champion.
Go-Karts:  2009 at Thundering Valley Raceway.  Starts: 23.  Thirds: 5.  Seconds: 9.  Wins: 11. Overall Points Champion.
Legends: 2010.  Total Starts: 12   Nelcar points starts: 10.  Best Finish: Fourth.  Finished thirteen in the points standings and received rookie of the year.
Legends: 2011 Total Starts: 28.  Nelcar points starts: 25:  Top Tens: 24.  Top Fives: 13.  Thirds: 6.  Seconds: 2.  Wins: 4.  Finished second in points.
Legends: 2012 Total Starts: 33.  Nelcar points starts: 32.  Top Tens: 22.  Top Threes: 18.  Thirds: 10.  Seconds: 4.  Wins: 4. Overall Nelcar and TT Points Champion.
[/vc_column][/vc_row]